Air connectivity is essential in unlocking a country's economic growth potential as it attracts business investment and human capital. All airport services and the increasing demands of airlines require a high level of connectivity in airports calling for the need for Private 5G networks.
Connectivity can be a key enabler with the advanced digital changes in airports. Airports already have a wireless and wireline network, but in most cases, they fail to provide the full coverage, latency, reliability, and security that new applications require. Ensuring good connectivity for all the services within the ecosystem of airport operators needs a smart and effective way to modernize their telecom infrastructure.
Here comes the Private 5G networks, the ideal solution for airports to digitalize, automate and support innovative services. 
Need of Private 5G in airports
The airport is like a complex community of tens of thousands of people that are supported by a wide range of applications depending on the telecom networks to function smoothly.
All stakeholders in the airport have different but closely interconnected needs. Let's say:
Airport authorities want to ensure smooth operations and arrangements of all the services at the airport.
Airlines want to optimize their operations smoothly and continuously while ensuring safety and security to improve passenger satisfaction.
Passengers do not want the inconvenience of lineups and want access to a full range of digital services customized to meet their requirements.
Tenants want to provide innovative services to all the people who work at the airport.
There are already many technology solutions that exist to fulfill these expectations. For example, many IoT applications help in tracking luggage, but here comes the need for a wireless network that can assure its full availability without any interruptions. Also, various digital solutions are available that helps in improving passengers' experience, but they also need high-quality network in terms of flexibility, latency, and network security.
If we look for the ability that can be used in airports, it highly depends on the availability of reliable, low-latency, and high connectivity. The most effective way to meet the specific needs of all the stakeholders in airports is to use a Private 5G network while supplementing current communications platforms.
How Private 5G helps in Airports?
Airports are on the brink of the digital transformation towards automation, and more effective services for passengers, driven by the pressure for high cost-efficiency, reliability, and security. Private 5G networks have a big role in this digital transformation while meeting the continuous airport's operational demands.
Below are some key benefits of Private 5G networks in airports: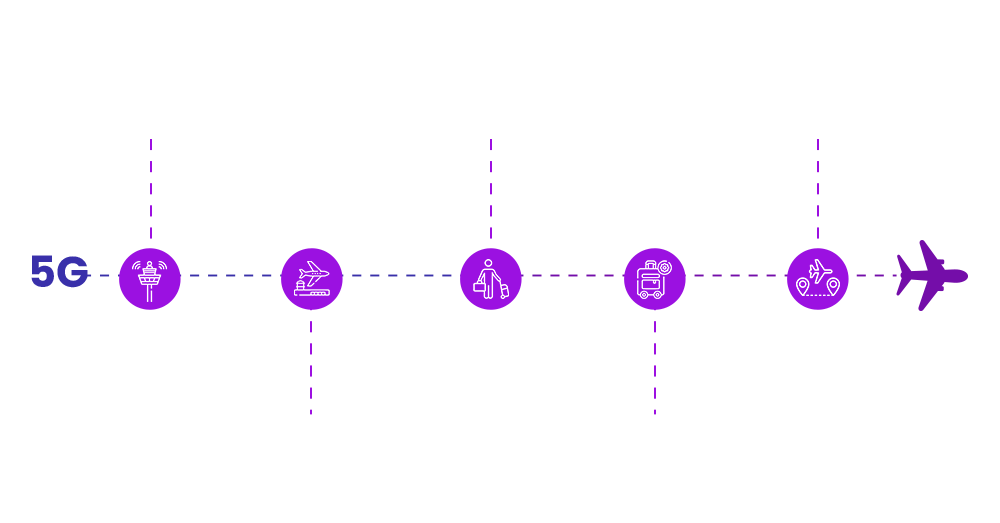 Airport communication systems: The use of Private 5G with satellite and very high-frequency communications will help in connecting all the relevant technologies on board in airports. Also, the Private network can transmit high volumes of data at high speed while leading to more timely and impactful data insights. That means it will help in optimizing operations and enhancing the passenger experience in airports.
Airport operations: While performing airport operations, Private 5G helps in facilitating better communications and faster problem-solving. The wireless network introduces revolutionary architectures for IoT use cases including enhanced security, autonomous traffic control, biometrics services for boarding, predictive maintenance, and utility monitoring. Thus, in the future, airports would be able to monitor every vehicle at the airport, ensuring the effective use of each vehicle.
Passenger Processing: Widespread use of Private 5G means that passengers could experience faster and more seamless connectivity of the services they are being provided while traveling through the airport. Also, self-service technologies and biometric ID management will get benefit through the faster transmission of data.
Baggage management: Baggage tracking relies on the collection and transmission of data. With the Private 5G, baggage tracking could be even better due to its speed and capacity to transmit data faster. Airports can install smart cameras on baggage ramps to capture images of passenger bags to better recognize bags to their owners.
Touchless journeys: Private 5G provides touchless journeys in airports, important for the health and safety of staff and passengers, and provides greater confidence to passengers while traveling. New IoT implementation and expanded wireless coverage enable flexible deployment models helping airports to meet health guidelines and rebuild consumer confidence in this 5G era.
Conclusion: Seizing the opportunity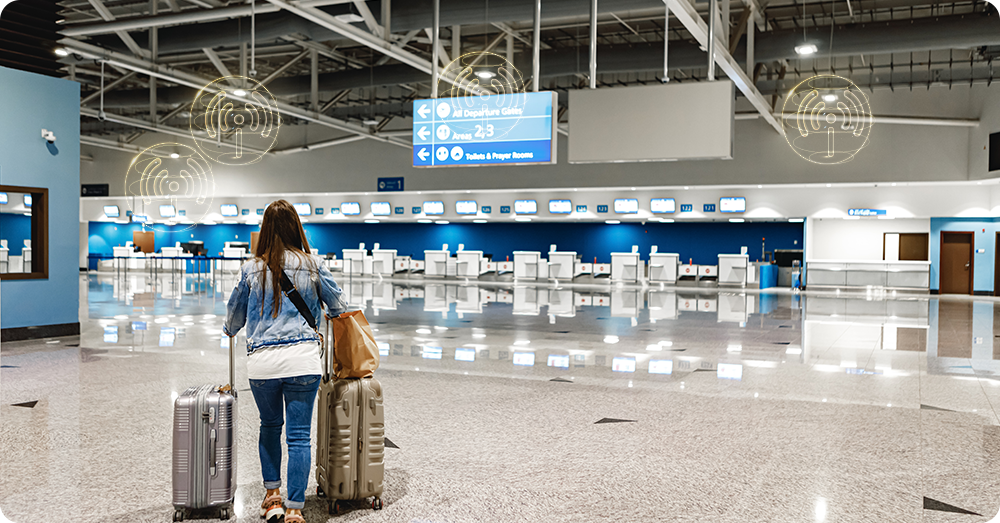 According to Allied Market Research, the 5G network is predicted to garner $4.68 Billion by 2030 in Aviation Market. Private 5G network enables easy deployment and widespread connectivity that can help airports, safe, on-time, and fully connected journeys. The 5G-ready operational network provides a dedicated network and delivers the reliability and low latency that is needed for critical operational services.
Digital transformation around the world will fundamentally change the way airports operate and serve their passengers and stakeholders. To stand out from the rising expectations, airport operators need to modernize their telecommunications infrastructure.
Private 4G/5G can be the best and obvious solution for emerging digital services and automation solutions require connectivity while securing fast and available services everywhere.