Industry 4.0 is finally here to revolutionize the tech industry by advancing remote monitoring, asset tracking, advanced analytics, and preventative maintenance. However, all these developments highly depend on connectivity.
And today's Wi-Fi or fixed cables are expensive that are restricted to stationary assets, and most importantly they are extremely difficult to scale and connect in most industrial facilities like automation, which is essential to enable economies of scale. This is where the Private 5G wireless network makes a significant impact.
The demand for private 5G networks has increased globally because of their reliable connectivity, advanced security, and additional functionalities. Even, the business regulators offer additional spectrum to build up their own private 5G network in enterprises.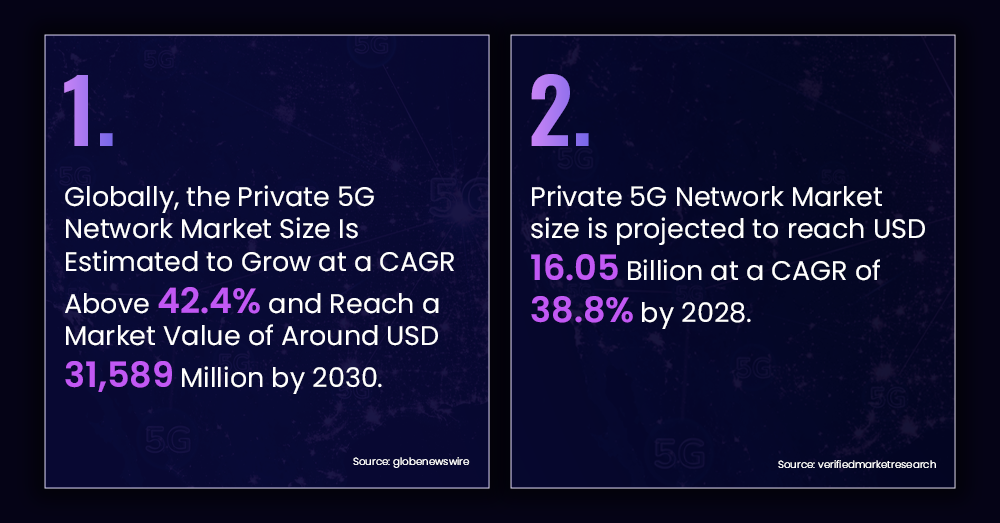 Hence, this network proves to be a progressive opportunity for those businesses that need 5G capabilities while deploying their transformative applications. This digital transformation of Private 5G will now drive the Internet of Things (IoT) and smart cities.
Understanding Private 5G Network
This wireless technology is said to be a booster in the digital transformation journey and will help in accelerating the industry 4.0 initiatives. Before exploring more about this network in businesses, let's understand the Private 5G network in detail…
It is a network dedicated solely to own purpose of businesses. They can set up their Private wireless network as per their needs, and unlike a public network, it is closed to external communication. Moreover, it provides dedicated bandwidth for ultra-reliable, low-latency use cases like automation and Internet of Things (IoT) devices for industrial operations.
Using these networks, the enterprise can control its data, security, and networks. It also allows the enterprise to configure and customize the network according to requirements.
Need for Private Network
Let's consider the public network supporting countless billions of personal and professional exchanges and transactions daily. That means business operations are working in a network that was never designed to be a trusted or secure environment but as a network for academics and researchers to share data.
Despite how we use these networks today, you should now ask yourself how secure your data is and whether you should rely on the public network to do the job at all.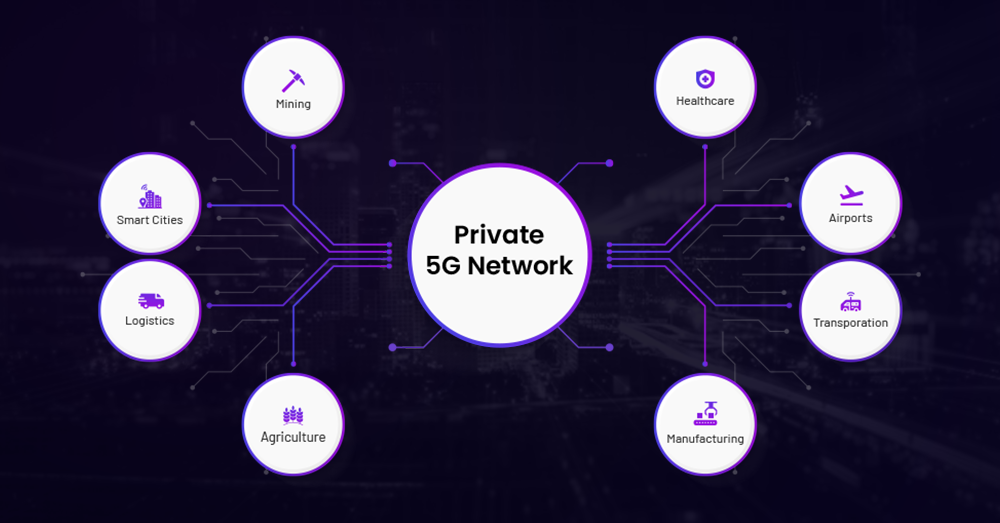 In fact, in the last few years, various calamities like distributed denial of service attacks have taken down businesses' web servers globally and hit some of the largest banks, social networks, and news outlets. According to Interpol, the global cost of cybercrime is expected to reach $10.5 trillion by 2025.
The opportunity for businesses
Like Wi-Fi networks, Private 5G networks require small, local cellular towers that offer internet access points. This proves to be ideal for large manufacturing units, logistics warehouses, and various private institutions like colleges that usually function through large campuses. Here, Private networks can be installed to provide 5G connectivity locally. Let's explore the opportunities of these networks in businesses:
Offer "high security" as they are confined to one place and are not connected to the greater telecom network. That makes them very lucrative for industries like power plants and military manufacturing that require high security.
Businesses can "customize Private 5G networks" according to their need, unlike public 5G in which they can only select limited options offered by the telecom and then need to manage and analyze the data internally.
Provide reliability, better connectivity, end-to-end control, and customization as per the business needs.
Businesses do not need costly cabling and manpower to install the Private 5G setup that turns out to be more cost-effective, easier to set up, and faster to install, offering more reliability and security.
Help businesses to safely gather, store, analyze & deliver actionable insights for their sustainable growth. Other than offering device accessibility and security, this network also fuels the power that is needed for the resource-intensive IoT & big data applications to remain connected with the remote workforce across multiple sites in enterprises.
Private 5G provides compelling benefits to a broad range of enterprises, but planning and deploying a best-in-breed, open private 5G needs significant multi-vendor technology and integration expertise.
The challenges
No doubt there is great potential in the private 5G network to safeguard businesses in today's market, but with the increasing deployment cases, challenges can't be ignored.
Integration of components: Integration of the technology with legacy systems and networks.
Network planning and management: The complexity while deploying & managing these networks.
Technical skills: Lack of technical skills and expertise while managing 5G networks.
Viewing these challenges, businesses should consider outsourcing their private 5G deployment to an MSP (Managed Service Provider), which has the expertise while implementing private 5G networks. That means, "Private 5G Network as-a-service" could help in accelerating the adoption process and provide a better end-user experience and return on investment for enterprises.
Moreover, it is extremely important to integrate the private 5G into businesses' operational workflow. Let's say, in terms of safety and maintenance, these business processes must be directly integrated into these networks.
Echelon's Private Network holds the key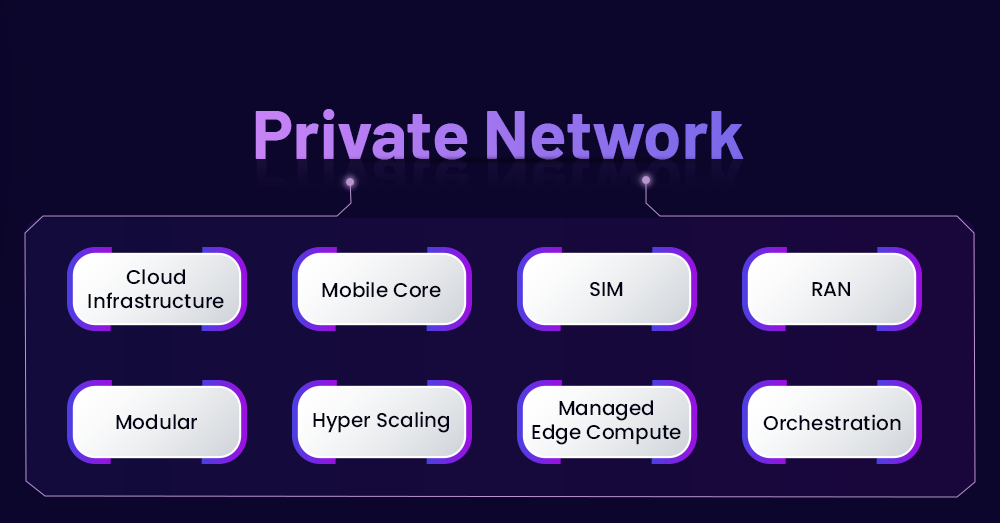 Echelon private wireless network offers superior service quality with better control & reliability, dedicated bandwidth, and ultra-low latency. In this current fast-paced digital transformation landscape, the demands of automation technology are converging, promising a scenario where widespread 4G/5G adoption is not only a distinct possibility but an ultimate necessity in businesses. So, let's step on it and join the bandwagon of digital transformation.
Want to explore a custom-made private Network solution and its opportunities? Visit echelonedge.com and we would love to hear from you.